Schroeder's last error: allowing Russia to control Germany's natural gas supplies
Here are Gerd Schroeder's words when discussing the gas pipeline deal he and his soon-to-be employer, Vlad Putin signed back in September (emphasis supplied):
Schroeder applauded the deal

as one of the most decisive steps Germany has taken in boosting energy supplies, saying, "It establishes the independence of German energy security."
Here is his buddy Putin's response to those who question his right to cut off natural gas supplies to whichever nations he wants to *influence*: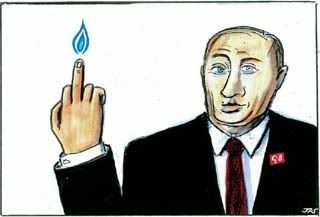 Here is commentary in today's Financial Times:
Russia has crossed a dangerous line in cutting gas supplies to Ukraine. While Moscow has legitimate grounds for complaint in its dispute with Kiev, its actions are irresponsible. The interruption of Ukraine's shipments will damage Russia's efforts to establish itself as a trustworthy energy supplier. It will also cast a shadow over President Vladimir Putin's attempts to increase Russia's global influence. Moscow's year as president of the Group of Eight for 2006 could not have had a more difficult start.

Moscow is within its rights to end the preferential deals under which former Soviet republics buy gas. Given the high global energy prices, price increases are commercially justified. They are also desirable in economic and environmental terms as they could push the region's notoriously inefficient energy users to cut waste.

But the Kremlin's motives are largely political. Mr Putin is taking revenge on Ukraine for the triumph of, Viktor Yushchenko, its west-oriented president, in the Orange revolution. Russia is angry at its loss of prestige, irritated at Kiev's bids to join the European Union and Nato, and fearful of the precedent set by a successful democratic revolt. [...]
I especially endorse this suggestion:
As a first step, Gerhard Schroeder, the former German chancellor, should reconsider his decision to work for Gazprom as chairman of the planned Baltic Sea gas pipeline. He should not lend his name to such a blatant instrument of Russia's political power.
Germany currently imports 45% of its natural gas from the USSR Russia, why Schroeder would crow about becoming even more susceptible to Putin's power politics is beyond me. Unless of course, Gerd's actions were designed to ensure his own personal retirement plan.